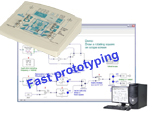 ETD410

module to study signal processing and rapid DSP prototyping:
▪ Signal theory, IIR/FIR filters, sampling, quantization.
▪ Digital transmission, information theory and coding.
▪ Identified characteristics of a filter or a servo-system (Bode diagram, Nyquist diagram,...).
▪ Embedded real-time instrumentation (text terminal, 8-channel oscilloscope (with XY mode, constellation), spectrum analyzer, recorder, sine/triangle/IQ generator...).
▪ Modulations: AM, FM, ASK, PSK, BPSK, DPSK, QPSK QAM,...


:
The ETD410 module is specially designed to be used for practical works as well as for class illustration/demonstration (via PC + videoprojector).